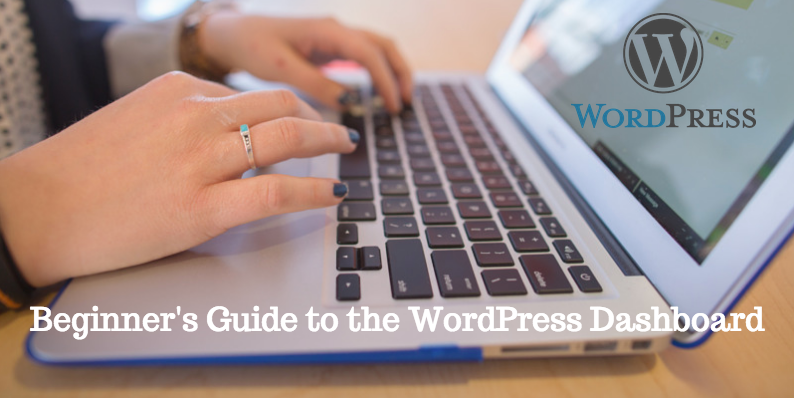 At HostandStore, we're huge fans of WordPress. In fact, we strongly advocate moving your site to WordPress. Today we will help you get started using this fantastic CMS yourself. We created this post to serve as a beginner's guide to getting started with the WordPress dashboard. We hope you will use this guide as a resource to familiarize yourself with the platform so that you can become comfortable enough to start using it for your own site!
Dashboard & Home
The "Dashboard" and "Home" buttons are the starting points for your WordPress dashboard. Both of these links will display the same information, which is a fairly straightforward overview of what's in your WordPress account. This is where you can find basic information like your number of Posts and Pages, your current Theme(s) and what's been Recently Published.
Updates
When you navigate to "Updates," you'll see updates that are ready to be installed. This may include the latest versions of your Themes, Plugins or even the latest version of WordPress. What's really handy about this tab is that as soon as an update becomes available, a notification appears in your dashboard so you know it's time to take some action. It's important to keep all of your Themes and Plugins updated because old versions of these often become vulnerable to malicious outside activity, such as hacking or data corruption.
Posts
Clicking on the "Posts" tab will show you all of your existing blog posts in chronological order. Here you can select any post, created at any time, and make any edits you see fit. One very effective SEO practice is to periodically update your older blog posts to keep them relevant. Having them all together in a single tab within your WordPress dashboard makes this task pretty straightforward and much easier to accomplish.
You'll also notice that when you initially click on "Posts," a dropdown menu appears with "All Posts," "Add New," "Categories" and "Tags." Using this navigational tool is a great time-saver for updating old content about a particular topic. You can also update your "Tags" and "Categories" pages here for improved natural search results.
Portfolio
Portfolios can be created in WordPress to help you showcase a particular type of content or artwork on your page. As you might guess, these are organized via the "Portfolio" tab within your dashboard. You'll notice that "Portfolios," like "Posts," displays a dropdown menu when clicked on. The items in this menu include "All," "Add New," "Departments" and "Portfolio Tags."
Gallery
When you navigate to "Gallery," you'll see media that you've added to be featured in some particular way on your site. The files in this tab can be arranged using Plugins, such as the popular NextGen Gallery. This is quite similar to the "Portfolios" tab. It's also worth mentioning that when you first click on the tab, you'll see a dropdown appear with links to "All," "Add New" and "Gallery Tags."
Media
The "Media" tab is a very important part of your WordPress dashboard. When you want to store individual Media files, such as Images or Audio/Video clips, this is the place to do it. You can upload your files to WordPress to have them in a single place. It's also very beneficial to host media files like these on your site instead of using a third-party hosting provider, which can be a bit confusing.
You'll notice when you navigate to the "Media" tab that options for "Library" and "Add New" appear. You'll choose "Library" to view files that are already uploaded to your account. In this frame you're also able to make alterations to your files, such as making them link to a new page or adding "Alt" tags to your photos.
Pages
If you choose to create webpages on your site using WordPress, the "Pages" tab is where you will go to manage these. WordPress is flexible enough to enable you to create any type of page you may see fit for your site, so this tab can be an incredibly useful part of your dashboard.
When you select the "Pages" tab, you'll notice that you can navigate to "All Pages" or "Add New." The "All Pages" option is similar to what you saw with "Posts" earlier. This is simply where you go to manage or update existing pages. This is also where using WordPress really pays off. For example, if you notice that your business phone number is incorrect on your "Contact Us" page, there is a quick, simple fix to resolve the issue. Simply log into your dashboard, click "Pages", select your "Contact Us" page, correct the issue and press "Update." Simple tweaks and changes like this can be completed and go live in under a minute!
Comments
The "Comments" tab in the WordPress dashboard is fairly straightforward. If you enable Comments on certain pages of your website, such as blog posts, your visitors will be able to interact with you directly via "Comments." You can moderate these comments and even respond with remarks of your own in this tab. You can also adjust your settings to control things like who can or can't post and whether comments must be approved by an Admin of the site before being published.
Feedback
The "Feedback" tab is where you can review feedback left by your website's visitors. You can create and customize a special "Feedback Tab" on your site using plugins like Feedback Side Tab. Of course, many of your more opinionated visitors may still leave their thoughts in the "Comments" section if it exists on a given web page.
Appearance
When you click on the "Appearance" tab in your site's WordPress dashboard, you will see your themes. Remember, you can add multiple themes to a site, so in this tab you are able to view not only the theme you're currently using but also all themes that you've uploaded to your site. The theme is what dictates how your site looks. Under the "Appearance" tab, you'll see "Themes," "Customize," "Widgets," "Menus," "Theme Options," "Edit CSS" and "Editor" options to help you get the exact look you want for your site.
Setting up a Theme is incredibly easy. There are many pre-made themes available online (many for free!) that you can simply select, download and add to your site. You can find great options at sites like iThemes and ThemeForest. No coding abilities? No worries! Many of the themes you find will be simple plug-and-play options that are ready to publish on your site the very second you download them.
Plugins
The "Plugins" tab is a critical part of your dashboard. Plugins can be added to help you manage your site more comfortably or to add functionality that can improve your site visitors' experience. You can find incredibly helpful plugins from many sources online. All it takes is a simple Google search.
Within your "Plugins" tab, you'll see options to navigate to "Installed Plugins," "Add New" and "Editor." Your "Installed Plugins" sub-tab is important because this is where you can view and manage the plugins that are helping you manage your site. In this tab, you will also find some basic information of the plugins you've already installed, including a short description of each.
Users
The "Users" tab in your dashboard is where you control who can access different areas of your site. This is where you manage who can do what behind the scenes. That's because, in this tab, you not only create User profiles and logins, but you can also set "Roles" for each user to determine the permissions you'd like to share with each of them. Within the "Users" tab, you'll also see options: "All Users," "Add New" and "Your Profile."
Pro tip: Require difficult passwords of EACH user, regardless of his/her "Role" and permissions. A single hacked profile can mean big trouble for your site, so make sure to reinforce the security of your site throughout this tab.
Tools
The "Tools" tab is pretty much what you make of it. You can download tools online that help you manage your site and this tab is where you'll manage those. Within the "Tools" tab, you'll also find the options to navigate to "Available Tools," "Import" and "Export." The "Import" and "Export" features exist to make quick work of moving large amounts of data. For example, if you're moving your entire site over to the WordPress platform, the "Import" function will quickly become your best friend.
Settings
The "Settings" tab may be the most important to your website. Within this tab you are able to establish the parameters inside of which your entire website will exist. It's important to take your time when navigating the "Settings" tab because many small details are controlled here, such as "Date Format" or "Timezone" that might appear when you publish something – if you choose to have date & time data appear at all!
Within the "Settings" tab, you'll find access to not only "General" settings, but also "Writing," "Reading," "Discussion," "Media" and more – particularly if you've added plugins or tools. Many of these will also provide you with the ability to make adjustments in your "Settings" tab.
Ready to Get Started?
While we hope you find this guide to be a helpful starting point, the best way to get familiar with WordPress, of course, is to just log in and start experimenting. Even if you aren't entirely ready to move your website over to WordPress, it never hurts to set up a "dummy" instance just for you to play around with. This is the perfect way to get comfortable with navigating and managing the platform.
If you think you are ready to learn more about getting started with WordPress, you can reach us via LiveChat on our site (when available) or through our 24/7 ticketing system. Remember, at HostandStore, we're more than just a hosting company – we're here to help you succeed online!