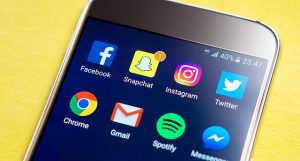 Social media is a wonderful tool for advertising and promoting.  It's nearly a necessity these days. Several of the social media sites now have their own version of "stories". We're going to discuss those today.

Facebook
In Facebook, a story is a collection of what you have done in the past day within your posts. It's not just in your feed, but a step by step collection of everything that has happened. These are usually posted on your Facebook wall. In business, you can create a storyline for advertising and promoting your business by using pictures, video, links, or even going live on Facebook within your story.
Instagram
Instagram uses photos and captions as posts. Captions can not be longer than 140 characters. An Instagram story differs from the normal photo and caption post. Stories allow you to showcase several photos similar to a slideshow. Also, unlike a normal post, these posts disappear at the end of the day. Using Instagram stories for your business is great for time sensitive material such as a sale or a free giveaway that ends at the end of the day.  
Twitter
On Twitter, stories are called 'Twitter Moments.' They allow you to put together several tweets into a type of slideshow story. Tweets have 140 characters or less, so if you would like to tell a story, Twitter Moments allows you to continue to tell it tweet after tweet. To use it for your business, it works well with longer ads, trending topics ,and how-to types of stories.
Snapchat
A Snapchat story is a video or picture that you put up in your section of Snapchat. Others can view these stories for the day before they disappear. There is no way to comment on these stories, however, a friend can message you about your story privately. You can also archive your stories privately for you to view at a later date. For business, Snapchat is a great tool to create commercial type ads that disappear at the end of the day.
Google+
Google+ has a feature that is simply called "stories". By using it, this feature puts together videos, posts, maps, and time-stamps into a log. This feature can help your business with advertising, show the day to day operations of your business, or even by intriguing your audience to come back and see future stories.
There are so many different ways to use social media and social media stories to help your business. A good social media following has been proven to increase traffic to your website. And sometimes, it takes a little trial and error before you get a good following and better traffic. So go ahead, play with social media a little and find that perfect recipe that will help your business grow.