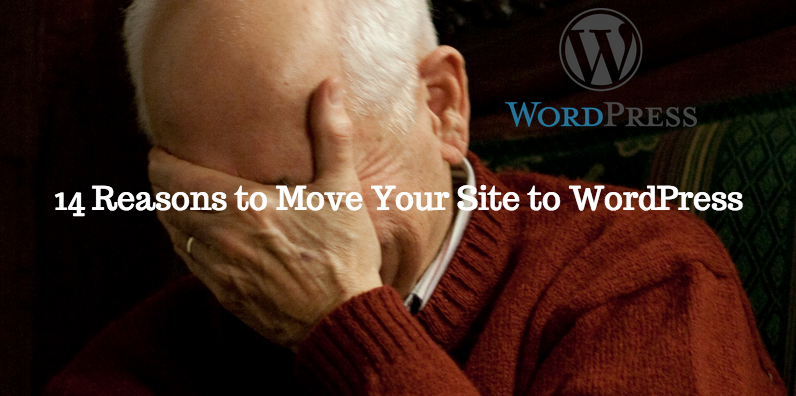 If you aren't using the WordPress content management system (CMS) to manage your website, you should be. WordPress is incredibly easy to use, offers all the tools you need, and best of all, is an open source platform. You read that correctly. The world's most popular CMS platform is free to use! If you aren't using WordPress to manage your site, here are 14 reasons you need to make the switch today.
1.
WordPress is Easy to Use
WordPress is incredibly intuitive and very user-friendly. The dashboard lays everything out neatly in a way that any user can understand. This makes it easy to log right in and get started right away – even for beginners!
2.
Learning WordPress is Quick and Easy
Because the WordPress dashboard is so intuitive, getting familiar with the platform's features and functions takes no time at all. There are also countless resources available online to help users of all skill levels enhance their WordPress abilities.
3.
WordPress is Extremely Customizable
Users are able to add "themes" to their site to give it a custom look with just a few quick clicks. Advanced users may go in and edit these themes for even greater customization, but the majority of users find great-looking themes that are ready to publish right out of the box.
Many of these themes are even free!
4.
WordPress is Great for SEO
WordPress can help your site rank well in search engines in a couple of ways. First, the site structure makes sense. Search engines hate sites that are coded in some confusing way, and that is always reflected in their rankings. Secondly, WordPress is so easy to manage that there is no reason you won't be able to post new, relevant content to keep your audience engaged.
Making frequent updates to your site shows that you're committed to keeping your readers up-to-date and search engines reward this. And more importantly, the visitors to your site will appreciate knowing that they are viewing the most current information available!
5.
There's a Plugin for That
No matter what you're looking to use your website for, WordPress plugins can help you accomplish your goal. Plugins for everything from Contact Forms to Image Galleries to even interactive gaming widgets are available, and most of these are open source! You can literally add just about any function you'd like to your site.
6.
Anyone Can Manage Your Site – Even You!
How many times have you received an invoice from a developer for something you probably could've done yourself? Or even worse, how many times have you NOT updated your site so you could avoid such an invoice? Those days are over!
With WordPress, you can manage your own content easily – perfect for small "here and there" changes. And even if you aren't available, or perhaps aren't comfortable to make these changes yourself, WordPress allows you to grant access to multiple users with varied permission levels. That means that even if you can't make the change yourself, you still control who can.
7.
WordPress Makes Responsive Design Easy
Responsive web design is a very important part of today's web environment. Luckily, nearly all WordPress themes developed recently follow the best practices of responsive design. This ensures that it's easy to get your site ready for all users – no matter what device they use to peruse your pages!
8.
You Cannot Beat One-Click Publishing
The second you're done creating or updating a page on your site, it will go live as soon as you press "Publish." This is a great way to get your content online more quickly! If you're still not using a CMS to manage your site, then your changes are not being shared with the world immediately. They must first be uploaded to a server and then moved to a "Live" instance on that server before they will appear online. These extra steps can cost you valuable time and they are no longer necessary.
9.
Posts Can Be Scheduled
WordPress enables you to wait for that perfect moment to get your content online. By allowing you to schedule when posts will be published, WordPress gives you the flexibility to set a series of publications into motion all at once, making it extremely cost-effective. This is perfect for anyone trying to regularly update a blog but having a hard time dedicating time to work on it consistently.
10.
WordPress Supports Multimedia
One of the best ways to engage with visitors to your website is to add some form of media, such as videos or images. WordPress supports several types of media resources within the platform, eliminating the need for confusing third-party hosting and coding.
11.
The Security Cannot Be Beaten
If you're looking for a solution that can be locked down tightly, WordPress is perfect for you. Servers and hosting providers are breached daily, but WordPress has amassed years of experience in combating intrusions to the platform. Of course, your own dashboard, where your data is stored and managed, is password-protected. And when setting up your account, you are able to assign additional security measures like login authentication restrictions and varying levels of user access.
12.
WordPress is Always Getting Better
One of the fascinating attributes that makes WordPress so unique is that it is constantly evolving and changing for the better. The WordPress community is a huge group. This community offers a tremendous amount of insight with regard to improving the platform. It also means that there are literally millions of sets of eyes using the technology, so bugs are quickly discovered and just as quickly snuffed out.
WordPress has been around for over a decade and many members of the WordPress community have been around since the platform's beginning. They've seen web fads come and go and the platform we enjoy today is the culmination of those years of experience, constant refinement and never-ending optimization.
13.
You Will Find the Support You Need
No matter what you're looking to do with WordPress, there are people who have already been there and done the same thing. One of the best things about the platform is how dedicated its users are to making it better. Part of that means offering feedback, sharing experiences and posting information about the different things they've done. If you're ever looking for help with the platform, the answers you need are just a Google search away.
14.
WordPress is Open Source
(read: FREE!)
This one is pretty self-explanatory! While certain themes or plugins may require some up-front or monthly payment, the WordPress platform itself is free! All the costs you face just to manage your existing website can easily be avoided. Ouch!
Moving Your Site to WordPress
Moving your site to WordPress is actually easier than you think. The steps are actually fairly simple:
Setting up your WordPress environment
Importing your content
Getting the look with the theme of your choice (customization optional)
Replicating your site functionality with plugins
Testing your functions
Getting your new site online!
At HostandStore.com, we've migrated many of our own clients over to WordPress, and we would love to do the same for you. If you're looking to get more out of your website, moving to WordPress may be just the answer you're looking for.
Just imagine it – a fresh look (or not!) and the ability to manage your site yourself. Finding the perfect theme (or having one developed) can be taken care of in no time, and our team can manage the content import and replicating functionality for you. We work with you every step of the way. To learn more about having your site migrated to WordPress, you can reach out to us via LiveChat on our site (when available) or through our 24/7 ticketing system.