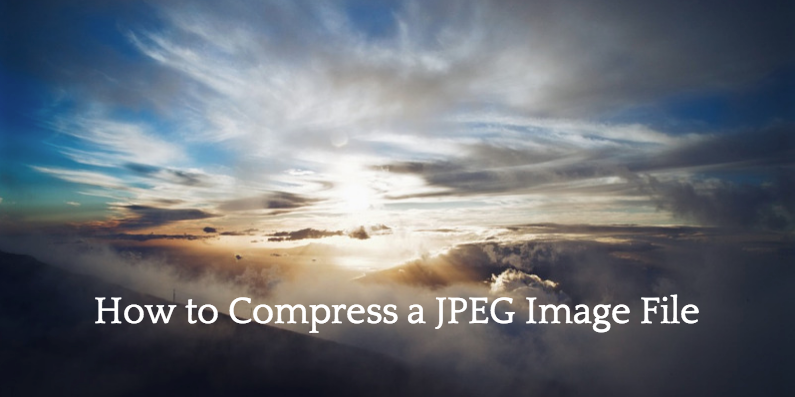 Last November, we created a post showing you how to optimize your images for the web. One of the steps was to compress all JPEG image files to smaller sizes – that way they wouldn't have such a drain on your website's load time. Today we're going to discuss a couple of easy ways anyone can easily do just that.
Online JPEG Compression Services
If you aren't the type who is able to devote time to resize JPEG files for your website, you aren't alone. The same can be said if you don't have any experience with image editing – it just isn't something everyone has time to learn. That's why there are several free services available online to help you get the job done. Here are some quick examples:
CompressJPEG.com is a free site that enables users to upload up to 20 .jpg or .jpeg files to be compressed. The site will complete file compression for the user at no cost, and all the user then has to do is simply download the new file. The only downside is that the user is unable to set exactly how much a file should be compressed and that means that some images may end up seeing some quality degradation. Of course, quality degradation is always going to be a factor users should consider when compressing JPEG files, but with CompressJPEG, the user has no control over this at all.
Jpeg-Optimizer.com is another free option that enables users to upload JPEG files for compression. The main differences here are that images are uploaded one at a time, but that users are given control over compression levels and photo resizing. Once again, image quality degradation may be an issue here, but with the ability to control image compression levels and photo resizing, it shouldn't create much of a problem.
Tinyjpg.com is another popular online JPEG compression option. Users are able to upload up to 20 .jpg or .png images at a time and by the time Tinyjpg is done, all that's left for the user to do is downloading the compressed images. TinyJPG does not allow the user to customize their compressed images themselves, but it does typically offer clearer results with less degradation than CompressJPEG or Jpeg-Optimizer.
Of course, it's hard to complain about any of these services since they are all free and incredibly easy to use.
Getting Greater Control with GIMP
If you do need more precise results than what you can expect with one of these free online compression services, there is an open-source answer for you. If you don't want to shell out big bucks for PhotoShop, you can always use GIMP, which is a free program offering much of the same functionality.
Even if you've never used the software before, compressing images in GIMP is still very easy. The first step is to open the desired image (File > Open). The next step is choosing Save As and renaming the file. At this point, a "Save as JPEG" window will appear. In this window, you will notice a slider that will allow you to customize your compression level. You will also see the updated file size as you adjust the slider. Once you are confident that you've gotten your image to its optimal state, simply click Save and your image will be ready to post!
And once you've added your new image(s) to your website, be sure to add appropriate Alt Tags to help your site rank well in search engines! If you're looking for an efficient way to add some great photos to your site for little to no cost, you should also check out these 9 places to get free stock photos. Your site visitors will thank you!