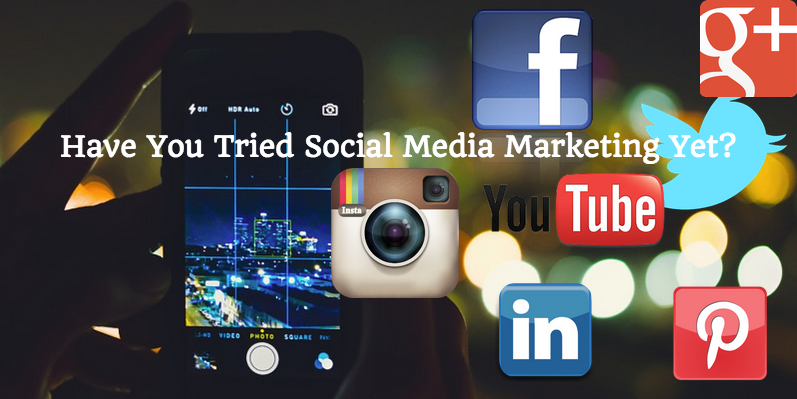 We have arrived at a point where businesses can no longer ignore social media. In fact, some profiles on popular social media sites like Facebook, Twitter, Pinterest and Instagram have even crossed over into the print medium. And it seems like nearly all ads now feature hashtags or accounts to follow too! So what does it mean? Well, in short, social media has transcended being just a platform for catching up with friends and meeting new people – it has become a place to do business!
Businesses on Social Media
These days, you'll find just about anything on social media. Having a bad day? Look to the oh-so-common pet accounts set up by owners with a little too much time on their hands. Ready for some new clothes? Browse all the latest styles in one place – all online! Looking for a new place to eat? Find reviews for all the hottest spots near you.
No matter what you're looking for, you can (and will!) find it on social media. People expect your business to be there too. Those who want to learn or explore anything are now turning to social media because it has become the place where everyone can go to voice an opinion on pretty much any issue. That's what makes this such a major opportunity for business.
Whether your business offers products, services or both, anyone can benefit from having an online presence on major social media sites. After all, you can't just put out an "Open" sign and expect people to immediately start flooding in. You have to let them know what your business offers and what you can provide. Social media marketing is the perfect way to introduce your business (and possibly yourself) to a new audience and drum up some attention!
Social Media Marketing for Small Businesses
Most of today's consumers only do business after doing a bit of research. Because there is so much information available, they're virtually ALWAYS informed before they ever make a purchase. This creates a huge opportunity for small businesses. Because so many people are turning to the web to find new ways to spend their hard-earned dollars, small businesses have a much better chance of using social media to capture their attention. Social media creates a level playing field where small businesses can stand up to larger competitors in the fight for new customers. In fact, according to Relevanza, 78% of small businesses attract new customers using social media. What does that tell you about the power of social media marketing for small businesses?
Other Ways Social Media Can Help Your Business
Apart from increasing your presence, social media is also used for the following:
Enable potential customers to get to know you: It's not that hard to put up a website these days, but rather than being just another occupant on the web, how do you let people know what your brand is all about? Social media helps you out with that. It is the perfect place to show your personality and share your values.
Improve your customer service: Today, many companies utilize separate social media profiles solely dedicated to customer service. With social media being so much more immediate, any complaint or concern a customer might have can be answered without having to wait for a long period of time. Because these interactions are visible to the public, potential customers can get a much better idea about what it's like to do business with your brand. This can be a good or a not-so-great thing, depending on how you handle it.
Promote your own content: No matter what industry you're in or what type of business you manage, providing original content is great for your business. For example, if you offer car rental services, you don't only need to talk about renting cars and its benefits all the time. Your industry ties quite well with travel, so why not offer some travel tips as well? You can write several posts on road trips that detail the sights to see along the way. Your potential customers will love it and it will help ensure that they remember your business before making their final decision the next time they happen to be renting a car.
Providing content or information that your audience needs is a great way to gain their trust, and doing so on a consistent basis will surely earn you their loyalty.
More and more people are turning to social media to find the information they will use when making purchasing decisions. Just because someone has stumbled across your site, doesn't mean that they will be doing business with you. With the help of social media, you can help convince them to.
Choosing the Right Social Networks for Your Business
There are getting to be quite a few social media platforms, or social networks, out there. Depending on what you want to share, how you want to feature it and who you want to reach, some platforms may serve your business better than others. To help you make those decisions, here's a quick primer on 7 popular social networks:
Using Facebook for Marketing
Facebook started off as a private network. It was originally an invitation-only platform that was open to college students at select U.S. institutions. Today, Facebook has over 1 billion active users all around the globe. As Facebook has grown, it has undergone many changes along the way. Many of those changes have been centered around the way businesses can use the popular social networking site to reach a broader audience.
Outdoor clothier, L.L. Bean, is one great example of a retail brand who takes full advantage of Facebook's sweeping reach. Instead of focusing on their products themselves, they use Facebook to help tell stories and stir emotions among potential customers. Instead of showcasing dog jackets, for instance, they might share a series of photos of four-legged hikers trekking through the mountains in one of these stylish canine coats. And who doesn't love dogs in clothes?
In addition to striking images that feature their products in action, L.L. Bean also uses videos and strategically-created written content to help the general public get to know their brand. They also encourage audience participation, including offering special incentives for Facebook fans to join their email marketing list. Not only do all of these efforts help people discover L.L. Bean's products, but it helps to create a very specific (and likeable!) perception of the brand. Your business can certainly grow by recreating L.L. Bean's effort on Facebook in your own unique way.
Marketing with Twitter
Twitter is the fast-paced social network that allows users to post quick 140-character updates. While this may not seem like a lot, Twitter's user base is huge and a well-timed "tweet" can help launch any business. Because the messages one can share are so short, it makes timing incredibly important. Many brands have been creative enough to really hit the nail on the head with timely tweets that got the world talking, and it all comes back to timing. For instance, remember Oreo's "dunkin' in the dark" campaign. Timing was everything!
Like Facebook, Twitter has also undergone some pretty incredible changes since it first started out. Today brands can use hashtags, images, gifs, videos and links in their tweets to help capture the attention of a wide audience base. If you want to reach an audience "in the moment," so to speak, Twitter is the perfect medium. Discover what's trending and find a way to insert your brand into the conversation. Just be careful…this can go wrong at times. Do your homework and stay tactful!
Using YouTube for Video Marketing
YouTube has become an unbelievably popular social network. While the focus is more on the video content than the individual users' profiles, it can be a tremendous place for businesses to showcase products, demonstrate their services and build strong brands. Sure, most people use YouTube to watch funny clips, sports highlights, musical performances and, of course, cat videos, but there are still many brands who have been able to find success through video marketing on YouTube.
This is another platform that creates a fantastic opportunity for small businesses to compete with larger ones. If you're looking for a way to help teach people about your brand, YouTube is the perfect place for this. You might even try sponsoring some of your content to help reach a wider audience. Can you imagine a better way to introduce your company than by literally showcasing what you have to offer using video?
Getting Visual with Pinterest
Pinterest is very much a visually-inclined platform. As such, it largely benefits those who are able to create striking images for their business. Obviously, photographers, interior design firms, architecture companies and the like can showcase their work through Pinterest, but it's also a great place for brands to showcase experiences. Restaurants, hotels, boutiques and other such businesses can experience a tremendous benefit by recreating their brand experience through pictures. If Pinterest users like what they see, they can "pin" these images to their own boards, which are then shared with others in their network.
In addition to pinning your own images, you can help relate to (and reach!) your target audience by re-pinning other items that are similar to your own, or perhaps also of interest to those who might be into your visual content. For example, if you're running a hardware store, instead of focusing only on the things you have for sale in your store, you might also share content focused on seasonal DIY projects, such as laying gardening beds in Spring or how to properly wrap pipes in Winter. Pinterest is the perfect showcase for your business, and also the perfect place to SHOW your audience exactly how your brand can improve their lives.
Staying Visual with Instagram
Instagram is another image-centric platform where you post pictures related to your business. Don't let that throw you, though. It's actually quite different from Pinterest. While Instagram images can be viewed online, the platform actually functions on a mobile app that allows users to snap photos, edit and share them. Instagram offers several filters that help users customize their photos, making it the perfect place for brands to develop and reinforce a strong brand identity. The end goal for a brand should always be that a customer can recognize its materials, even if the brand name is not present. Instagram is a great way to establish this visual rapport.
Just like Pinterest, Instagram is a great medium for all businesses – not just artists, photographers and designers. There are plenty of businesses from all industries winning new customers using Instagram. Yours could be one of them! And remember, Instagram also offers the option to capture and share short videos as well. Keep this in mind if you're looking for new ways to build your brand.
Reaching Professionals on LinkedIn
LinkedIn is a very interesting social platform. Rather than focusing on bringing friends together or helping potential customers find new businesses, LinkedIn is actually a professional network intended to unite people for professional purposes. You might even say that informality is what makes other networks, such as Facebook and Twitter, special, but there is a level of seriousness and professionalism on LinkedIn. This is the place to meet and share ideas with others in your niche. This is perfect for businesses!
Many influential brands like Forbes, Inc. Magazine and the Wall Street Journal have experienced great commercial success using LinkedIn, but it's also a great recruiting tool. When you're thinking about how you share the identity of your brand, the people within your organization are going to be a critical part of that. LinkedIn is perfect for making sure that you have the right people in the right positions to help you put your best foot forward.
Marketing Your Business with Google+
Although technically a social network, Google+ has never generated the same level of interest as Facebook or Twitter. Engagement is virtually non-existent in comparison and, in truth, it's far more difficult to find major marketing success stories from brands using Google+. But while this may be the case, it does have some nice attributes. Chief among them? It's owned and operated by Google. This is great for developing traction in terms of SEO – especially for businesses relying on local SEO for success.
Google+ does also have the "Hangouts" feature, which can be a great tool for brands. This allows people to set up video chats, or conferences, where people from around the world can meet face-to-face (virtually) in real time. This is a very nice feature, but there is one major flaw. Because Google+ has so few users who are truly active on the platform, it can be difficult for businesses to organize Hangouts that many individuals will join. The reality of Google+ is that there are some good ideas in the platform, but it's never been widely adopted. The biggest reason businesses use it at all is because it's operated by Google. For most businesses, G+ is just another base that has to be covered as a part of their SEO strategy rather than a key part of their social media marketing plan.
What You Should Remember
Social media can definitely help you out – no matter what your line of business is. It's a great tool for exposing new people to your business, building a strong brand in the marketplace and driving traffic to your website. It's important to remember that social media marketing isn't a one-size-fits-all solution. Not all platforms are right for all businesses. There are choices that must be made and you should always be evaluating how each individual channel performs in terms of helping your business. After all, isn't that the whole point?
It's also important to remember that social media is only rented space. It can only do so much. The best way to think about social media marketing is to consider these networks a bridge between your business and the general public. The real business starts to happen once people cross over that bridge. What this means is that no matter how great your social media marketing is, you still need to have a great website to help you find new customers online.
And just like your social profiles are rented space, your website is your space. This is where you'll ultimately make your impression and where customers will either do business with you or choose not to. Having a lackluster website simply isn't enough anymore. If you want to grow your business online, a great website is the cornerstone to that. Everything else – including social media marketing – is built on that. Carefully consider what members of your target audience want and ask yourself if your website provides that. If not, it's definitely time for some changes.