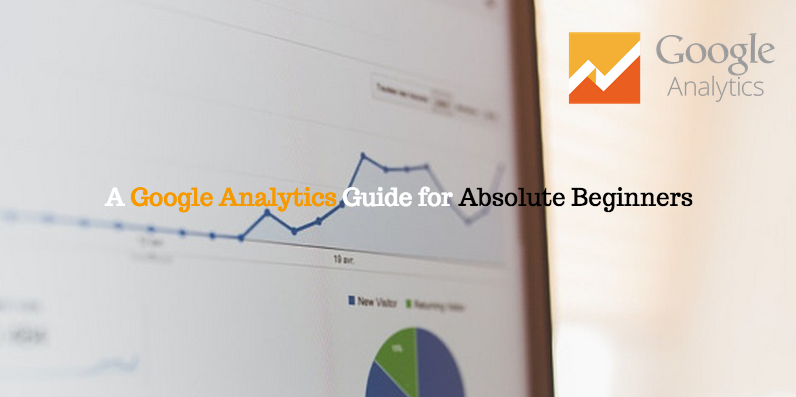 You don't have to be told that creating a website is easy these days. But making something that sticks and stays relevant for years to come is certainly the exception rather than the norm. With so much competition across various niches, what does it take for your site to stay alive? That's where Google Analytics, or GA for short, makes all the difference in the world. GA provides access to tools that help you better understand your audience, making it easier to tailor your site to what they want.
It doesn't matter if you run a personal blog or rely on your website for your business, GA is important. Why? These are just a few of the many things that Google Analytics can do:
– Shows you how many people visit your site
– Indicates where your visitors are from
– Tells you which sources send traffic to your site
– Explains which marketing tactics drive traffic for your site
– Proves you which of your pages are most popular
– Shows you how many visitors you have converted into leads or customers
– Tells where converting customers come from
– Details what content your site visitors respond to
That's really just the tip of the iceberg. In this Guide, we are going to explain many ways that you Google Analytics can help you gain insights that help your website perform better than it ever has before.
The Google Analytics Interface
There are four main tabs in GA:
1. Home
2. Reporting
3. Customization
4. Admin
The Reporting tab is where you will have all your data laid out before your eyes. Under this tab on the left-hand side are several menu options which will be discussed throughout this guide. We'll start by taking a look at Dashboards.
What Are
Dashboards

?

Simply put, Dashboards are a collection of simple widgets that allow you to see an overview of the data you consider the most important. You can monitor several metrics at once, as well as check the health of your accounts and see correlations between various reports. Dashboards aren't difficult to create, and they can be customized and shared as needed.
Default Dashboard
Each of the properties you monitor in GA will include a default Dashboard called "My Dashboard." This comes pre-populated with widgets informing you about your site's visitors by sharing updates on metrics and dimensions such as: a sessions geomap, a table of sessions by web browser, a timeline for number of users, etc.
For some, the default "My Dashboard" is quite enough to understand site traffic and visitor behavior. But if you feel it isn't to your liking – or perhaps you want to add more or remove certain widgets – you can always customize it to fit your needs. You can also create your own Dashboards, each dedicated to various aspects of your website's traffic.
How to
Create New Dashboards
Each Dashboard can hold up to 12 widgets. Here's how you create a new one:
Step 1: Go to the Reporting tab.
Step 2: Select Dashboards.
Step 3: Click +New Dashboard.
Step 4: Choose either Blank Canvas (no widgets) or Starter Dashboard (includes widgets) when the Create Dashboard dialog pops up.
Step 5: Give your new Dashboard a meaningful name and click Create Dashboard to save your work.
After you've created a dashboard, you can start adding widgets. There are different kinds of widgets:
Metric: Displays a numeric representation of a single metric
Timeline: Shows a graph of a certain metric over time
Geomap: Displays a map of a particular region, with a specified metric plotted over it
Table: Shows up to two metrics describing a selected dimension
Pie: Displays a pie chart of a selected metric grouped by dimension
Bar: Shows a bar chart of a chosen metric grouped by up to two dimensions
You will be given a specific combination of dimensions and metrics to work with depending on which kind of widget you choose. To add a widget to your dashboard, follow these simple steps:
Step 1: Click on +Add Widget.
Step 2: Identify your Widget Title.
Step 3: Choose between Standard (updates when Dashboard is loaded or refreshed) or Real-Time (updates automatically) widgets when the Add a Widget dialog box appears.
Pro-tip: Active Users, Timeline, Geomap and Table are available as real-time widgets.
Step 4: Configure your widget's dimensions, metrics and other options.
Step 5: Limit the data your widget shows by clicking Add a Filter.
Step 6: You can link the widget to a report or URL. This makes it easier to access this data from the Dashboard.
Step 7: When you're satisfied with your widget, click Save.
Sharing and Downloading Dashboards
When you have several web properties and want to generate similar reports across all of them, you can share your dashboard. Some users will share their own Dashboards, which you can download and use on your own GA account.
A Sample Dashboard
The whole point of your Dashboard is to display a clear overview of how your site is performing. A simple but effective Dashboard may contain widgets for the following:
– Active Visitors
– Traffic Sources
– Organic Keywords
– Social Referrals
– Top Content
– Conversions
– New vs. Returning Visitors
A Dashboard with this set up allows you to quickly see where your traffic is coming from, whether you're attracting new visitors, which content on your site is performing well and much more. Depending on how you set up each widget, you may be able to click each of them individually for a more in-depth look at how each component of your site is doing.
Setting Up Shortcuts
With shortcuts, GA can easily remember your specified settings so you don't have to reconfigure a report every time you open it. So if you add a setting like, say, a new metric, it stays with the report until you manually change it.
Shortcuts are available for any Standard or Custom report with a Shortcut option shown below it. These can be accessed and managed from the Shortcuts section on the left pane of the Reporting menu.
Creating a Shortcut
Step 1: Find a report that you access regularly from either the Reporting or Customization menu.
Step 2: Configure the report by adding or changing dimensions or metrics.
Step 3: Click Shortcut.
Step 4: Give your Shortcut a meaningful name.
Step 5: Click Ok to Save.
Understanding Intelligence Events
This section allows you to monitor significant changes in traffic and usage. Essentially, GA monitors the traffic of your website to detect significant statistical variations and then generates alerts to let you know when these variations occur. For example, if your site traffic drops by five percent, you can create Intelligence Events to notify you.
There are different types of alerts:
Automatic Web Alerts: Generated when GA detects significant changes in traffic or site usage
Automatic Adwords Alerts: Generated when GA detects significant changes in Adwords traffic
Custom Alerts: Generated when a threshold you specify has been reached or exceeded – This alert may also be sent by email or text message.
Setting Up
Alerts
You don't actually need to set up anything for automatic web alerts. And as long as you have your GA linked to Adwords (with auto-tagging enabled for Adwords alerts), you should be able to see both Web and Adwords alerts. The only alerts you have to set up are Custom Alerts.
Intelligence Events Reports
There are four kinds of Intelligence Events Reports available:
1. Overview: Provides a summary of automatic AND custom alerts triggered for the active date range. To see a graph of the data over time, select either the Automatic Alerts or Custom Alerts tab and click on Details.
2 – 4. Daily, Weekly and Monthly Events: These provide a summary of the changes to both automatic and custom events. These changes can be reported in day-do-day reports, week-to-week reports or month-to-month reports. You can actually specify the sensitivity of these using the Alert Importance slider.
Intelligence Events in Action
Suppose a post you wrote a month ago suddenly received a spike in traffic. Since traffic is converting at a high rate, you decide you want to find even more of it. Intelligence Events reports can help gain insight into how you can replicate these results.
Suppose that as you review the traffic sources, you find that your post was mentioned by an industry-leading blog. Not only did you receive a burst in traffic, but you also had many new users signing up for your newsletter. Based on this information, it would be a great strategy to start building relationships with industry leaders in hopes of additional future mentions. It can also help you to determine what types of content can help position you to become a thought leader yourself.
See What's Happening in
Real-Time
This section allows you to monitor site or app activity as it happens. For example, you can see how many visitors are on your site at any point in time, as well as which pages they are viewing and whether or not a conversion has occurred. So, how can you use this information?
The Uses of
Real-Time Monitoring
One of the most effective ways to use real-time traffic statistics is for time-sensitive marketing initiatives. For example, if you just promoted a new product on social media, you can use real-time traffic monitoring immediately after to gauge the public's first impression of that product. This not only benefits your Marketing Department, but can also provide valuable insights to your Customer Service and R&D teams as well!
Understanding Real-Time Data
There are six reports generated in this section:
1. Overview: Shows high-level information about site activity "at a glance". This is where you can see information like how many visitors are currently on your site, which pages they are on, where traffic is coming from, which country your visitors are from, and what your top traffic sources are.
2. Locations: Allows you to see geographic locations of your active users.
3. Traffic Sources: Informs you about where visitors to your site are coming from – This will help you to determine your most effective traffic sources to help you improve marketing ROI.
4. Content (or Screens for Mobile App Properties): Lets you know which pages or screens have been viewed in the past 30 minutes.
5. Events: Allows you to create custom Events for tracking interactions on your site. For instance, use Events to monitor when a video is played or when downloads are initiated.
6. Conversions: Shows you which goals active users are completing.
All six of these reports display the number of active users, number of hits the last 30 minutes, and the number of hits the last 60 seconds.
Understanding Your Audience
This section gives you more insight into your website visitors. You'll find out about demographics, behaviors, and interest. Knowing such things helps you improve your online marketing strategies. There are several sub-sections in the Audience section, and they are as follows:
Active Users: This report shows 1-day active users, 7-day active users, 14-day active users and 30-day active users. You can use this report to gauge audience interest levels. A consistent level throughout all scenarios means you're doing things just right, but numbers below expectations means some tweaking needs to be done. A rapid decline may signal some technical issues.
Lifetime Value: In this report, you can gain insight into LTV of users acquired through your digital channels, such as email or paid search. This helps you determine how to allocate your marketing budget (and focus!) in future campaigns.
Cohort Analysis: This report enables you to examine behavior and performance of user groups related by common attributes.
Demographics: This sub-section allows you to better understand factors like age and gender composition of your audience. This will help you to create more personalized offers that you can expect to convert at a higher rate.
Interests: This provides context for expanding advertising efforts as they relate to particular markets or market segments.
Geo: In this subsection, you can gain important information about the language and location of your audience.
Behavior: This report helps you gauge the impact your site has on your visitors by indicating critical actions that are taken (or not) by members of your audience.
Technology: This segment will allow you to see which browser, OS, and networks your audience is using. This helps if you're optimizing your site to perform a certain way for a particular device or browser.
Mobile: This provides critical information about how users are using their various devices to interact with your content. You can use this information to create tremendous strides towards improving your site or app's overall UX (user experience).
Custom: Define your own variables, metrics, and dimensions in this subsection.
Benchmarking: See how well you're stacking up against your competitors by comparing your data to those aggregated from your industry.
Users Flow: This subsection provides you with a graphical representation of the path users take through your site. You'll see the initial traffic source, the pages visited, and even the point of exit when a user leaves your site.
Master Customer Acquisition
The Acquisition report helps you determine how people are finding your site and which channels can help you achieve the highest ROI. Many digital marketers consider this the most important section in the entire Google Analytics platform. This section is actually broken down into several sub-sections that have subsections of their own. This helps provide particularly granular data. This is how the Acquisition section is broken down:
– All Traffic
– Adwords (if applicable, omitted from this Guide)
– Search Engine Optimization
– Social
– Campaigns
The
All Traffic

Sub-section

Channels: This indicates how visitors arrived at your site, broken into the following traffic sources:

Organic Search: Visitors found you in a search engine results page (SERP)
Direct: Visitors arrived by typing your URL directly into the address bar or through the use of a bookmark
Social: Visitors came to your site from a recognized social network
Referral: Visitors arrived at your site by clicking on some link found on another website

Source/Medium: This actually provides the same data as the Channels report, but allows you to see a clearer picture through more advanced data segmentation. For instance, instance of only seeing "Social" traffic coming to your site, you can use Source/Medium to distinguish between networks like Facebook and Twitter.

Referrals: The Referrals report enables you to break down the traffic sources that are sending visitors to your site outside of search engines and direct visitors.
The
Search Engine Optimization

Sub-section

To use this section, you must connect Google Analytics to your Google Search Console (formerly Google Webmaster Tools) account.

Queries: This shows search queries users entered into Google that led them to your site. You will see key metrics for these queries that include the following:

Impressions: The number of times a query was made
Clicks: the number of times your site was chosen by searchers
Average Position: Where your site was ranked in search results
Click Thru Rate: or "CTR" for short: Percentage of clicks received from total impressions

Landing Pages: Lists the pages on your site that serve as "entry points" for visitors.

Geographical Summary: This report shows the countries in which you have the highest volume of search activity.
The
Social

Sub-section

The Social report shows you the impact of your efforts on social media.

Network Referrals: This shows engagement metrics (such as Page views and Average Session Duration) for traffic coming from social networks. This helps you determine where you should focus more of your social media marketing efforts.

Data Hub Activity: This report shows how people are talking about and engaging with your site. See which pages are being shared, how frequently and in what context.

Landing Pages: Here you'll see engagement metrics for each URL which served as an entry point for visitors who reached your site via social media.

Trackbacks: This lets you know which sites are linking to your content and in what context. This is a great tool for building relationships in your link building efforts!

Conversions: This report shows how well your site is converting your visitors based on the goals you define.

Plugins: Here you'll see which social media buttons are frequently used on your site and where your content is being shared.

Visitors Flow: This report details the path that social media users took through your site, from the initial referral to their final exit.
The
Campaigns

Sub-section

The Campaigns report shows information from your planned (and assigned) campaigns, including how well end users responded to your campaign. You can run campaigns via email, social media, paid search or any other channel. The campaign data displayed here will include paid programs, organic sources or any other channel you've chosen to use, as long as the campaign is properly tagged.
The
Cost Analysis

Sub-section

The Cost Analysis report will allow you to compare ad cost and revenue from your paid marketing channels to determine your ROAS (return on ad spend). This is exactly what you need for determining how to allocate your marketing dollars!
Seeing What Your Visitors
Are Doing
The Behaviors report helps you determine what content performs best on your website by informing how visitors move through your site and how they interact with each page and its respective content. With this information, you can optimize your site's performance and improve conversion efforts.
Behavior Flow: Shows how users move through and interact with your site. This helps you to determine with which types of content your visitors are most likely to engage.
Site Content: Allows you to create logically-structured content groups that reflect the way you think about your site or app.
Site Speed: Details how fast users are able to load and interact with your content. Obviously, the more quickly your content is available, the more engaged users are likely to be.
Site Search: Lets you know what users are searching for on your site.
Events: Collects data on interactions with your content. Events can include downloads, mobile ad clicks, video plays and so on.
Ad Exchange (if using Google AdSense): Enables you to track and monitor activity of paid ads housed on your site via Google's AdSense program.
Publisher Experiments
In-Page Analytics: Helps you to assess how users interact with your pages by answering questions like "Which links do users click on?" and "Are users finding what they came here for?"
Discovering What Converts
The Conversions report helps you to monitor whether your goals are being completed. Each time a goal is completed, it's called a conversion. These are the activities that are important to your business! Each site may have multiple conversions. These are some of the most common conversion goals:
– Visitors subscribing to your newsletter
– Visitors sharing your content on social media
– Visitors completing a form
– Visitors downloading your prized content
– Visitors making a purchase
The Conversion section helps you understand how visitors convert on your blog or website. With the help of this report, you can make strategic improvements to your marketing campaigns. There are four sub-sections under this report.
Goals
You can create your own Goals in Analytics to track the occurence of strategic activities on your site. These are applied to the specific actions that you want users to take. The Goals sub-section reports how often visitors to your site complete your desired conversion process(es).
Ecommerce
The Ecommerce sub-section allows you to analyze purchase activity on your site or app. This details product and transaction information, including revenue and also calculates key metrics like AOV (average order value) and ECVR (ecommerce conversion rate). This information is extremely beneficial for weighing out your advertising options if you're looking to improve ROI.
Multi-Channel Funnels
Conversions don't always occur right away. In fact, they seldom do. The Multi-Channel Funnels sub-section allows you to see the role that website referrals, searches and ads played in getting your new customer to convert. This will show you how the customer originally found your site, how they happened to come back to your site later, how many times they visited your site before converting and how much time passed between site visits. This is the way to see how well your marketing efforts in various channels worked together to lead to a new conversion.
Imagine a scenario where a person purchases a gold necklace from your website. You see that this person came to your site by clicking on a Bookmark that he or she had already created. What made that person decide to buy at this time? How long has he/she been shopping around and thinking it over? This report may show that the user actually first came to your site 3 months ago by clicking on a paid search ad. Perhaps a month later, he/she returned after being retargeted and clicking an ad on Facebook. Perhaps at that point the user "Liked" your Facebook page and joined your mailing list. That means that from that point up to the time of purchase, there have probably been several times where he/she was exposed to your brand. The Multi-Channel Funnels report every step of the "Conversion Path" out clearly to help you better understand how you are reaching your customers.
Attribution
Attribution describes the process of properly assigning "credit" for web conversions. In the scenario above, credit may be shared between paid search (first click), Facebook (followup) and email (followup). Any other channels that may have produced an interaction between your brand and your customer would also receive part of this credit. So how is attribution determined? There are several widely-accepted attribution models and these are the most common:
Last Touch Attribution: All credit goes to the final channel that brought a buyer to the site. This does not acknowledge any prior visits to the site or interactions with the brand.
Last Non-Direct Click: Similar to Last Touch Attribution but ignoring direct traffic, this attribution model assigns credit to the most recent channel that brought a customer to the site other than direct entry. This is the GA default setting.
Last Adwords Click: Similar to the Last Non-Direct Click model, LAC gives credit to the most recent ad clicked on by a customer before he/she made the purchase.
First Interaction: This method credits the first channel a customer interacted with that led them to a site for the first time.
Linear: The Linear method credits each and every channel a user interacts with from the first interaction with a brand to the final conversion.
Time Decay: Credit is given to the touchpoint the occurred closest to the time of conversion. This is great for short-term promotions.
Position-Based: This is a hybrid method combining the Last Touch Attribution and First Interaction models. Credit is split between these two.
Getting Started
Google Analytics helps you with understanding a lot of things about your site. Tools like GA will help you find ample information that will give you the ability make the necessary changes that will improve the performance of your site. Whether you need to publish different content types or need to beef up your social media strategy, GA is there to help you figure out what to do. Everything it tells you can benefit your business. We also recommend the Page Analytics Toolbar for Chrome. Remember, no matter how effective Google Analytics may be, there are many tools available that can help you optimize your digital marketing efforts!