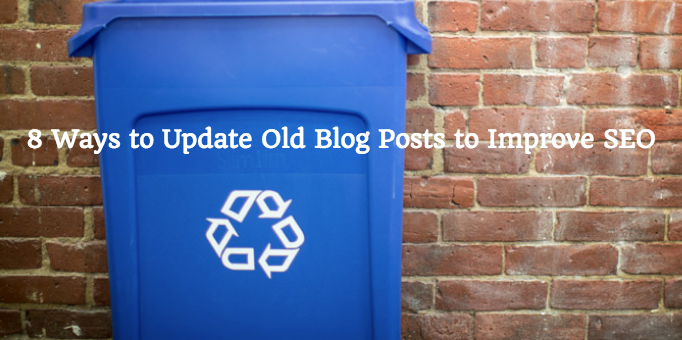 Your website can help your business grow. That's why it's important to make sure you're getting your website in front of the right viewers – as many of them as possible. Search engine optimization (SEO) has become a huge topic of discussion online because it does just that.
While SEO is a very proactive, forward-thinking effort, it can still be applied to existing (and even outdated!) web content to help get your site garner more positive attention in search engine results pages. For example, think about your company blog. Even if you or your team isn't updating as frequently as you should, what you already have can still be used to your benefit. You may be sitting on a gold mine! Today, we're going to show you 8 ways you can use your existing blog posts (or any page, really) to improve your site's SEO.
Step 1:  
Check Your Meta Tags
When auditing and optimizing your existing content for SEO value, the first thing you should really dig into is the quality of the Meta tags you're using on each page. Refer to the introduction to Meta Tags we created back in May for more pointers on what you should be doing with these.
Step 2:  
Evaluate the "Look" of Each Page
Think about the people who would visit your site. Are your pages visually appealing? Are they laid out in a way that makes sense? Make sure that each page and each blog post has a coherent, easy-to-follow flow.
You should also consider whether you are using appropriate images for your content. Are there enough of them? Remember, too, when you're looking at images to make sure you're using alt tags to help improve your site's SEO.
Step 3:  
Consider Your Content
Think about the content your site already has published. At some point, it was written because someone thought it was worthwhile for your website visitors to read. Is that still the case? It's important to double-check your content periodically to make sure that it's still relevant and that you don't have any outdated information published on your site. If nothing else, it's worth taking the time to proofread your existing content to make sure there are no glaring grammatical errors.
Pro-Tip: If you do update the information in your blog, add an Editor's Note. This helps you stay transparent first of all, but also offers some proof to your viewers that you're working to provide more relevant, up-to-date information.
Step 4:  
Double-Check All Links
When you're reviewing your existing content, double-check all the links on your page to make sure you aren't directing your visitors to non-existent or outdated pages. There are several SEO browser tools you can use to help you detect whether your pages have any issues with the links you're using.
Step 5:  
Add Your NAP Information
Remember, one great way to help build traffic to your site is by adding Local SEO elements to each page. Double-check each of the pages on your site – especially those that haven't been updated in a while – to make sure that you're sharing your NAP (Name, Address and Phone number) information properly.
Step 6:  
Remember Your Robots.txt File
When you are taking the time to re-evaluate your older content, you should also be double-checking your site's robots.txt file. This is used to help direct search engine crawlers away from the pages you do not want indexed. It's a very helpful tool, as it can be used to help you make sure that you're putting your site's best foot forward in the search results pages by making only your most fitting content available to search engines. Of course, the more of that content you have, the better, so if you are finding a large number of pages that you want to block with the robots.txt file, perhaps you should reconsider steps 1 – 5 above for those pages. You may be missing out on some great SEO opportunities!
Step 7:  
Create a New Sitemap
Sitemaps are another tool you can use to help provide guidance to search engine crawlers. A proper sitemap includes a log of which pages on your site you'd like crawled along with some basic information (optional) about each. You can submit your sitemap directly to both Google and Bing using their respective Webmaster Tools consoles, and these sitemaps are then used to help the search engines more effectively crawl your sites. After all, by the time you've taken the time to update an older post, don't you want to be sure your site gets the greatest possible benefit from doing so?
Step 8:  
WordPress Tags & Categories
If you are using WordPress to manage your blog (which we highly recommend), be sure to mind your Tags and Categories. In WordPress, the "Tags" and "Categories" features can be used to help organize your blog into related sections, making it easier for your readers to navigate. When you create new Tags and Categories, however, you are also creating new pages for each Tag and Category. These pages tend to perform very well in search engine results, so by creating these pages and optimizing them for search, they can be a great tool for helping your site's rankings improve.
Using Old Posts to Guide New Ones
As you're reviewing your older content, it's important to take note of which posts have really served your readers well. Use the engagement metrics found in tools like Google Analytics to determine this. If you see that your readers respond well to content about a particular topic, you should create more posts on the subject. You can expect this to please readers, who seem to be interested in the topic based on your metrics.
Remember, you can also retrieve similar, equally valuable information by checking out social media engagement, email marketing metrics and even direct user interaction! Your audience will pretty much always let you know what they want to read, if you're listening. As you're updating your old content, keep an eye on how each of your older posts has performed to determine what your upcoming content should consist of.
When to Audit Your Content
It's important to conduct regular content audits. Not only because the information you publish may become outdated, but also because search engines are constantly updating their algorithms to help provide the most relevant search results to their own users. Making sure that your content – old and new alike – is optimized to appear in those results will certainly help your chances!
So how frequently should you be updating? We recommend quarterly content audits, but realize that this isn't something that every one is able to perform, unfortunately. And, of course, there can be some flexibility with this. Most digital marketing experts, however, do agree that content audits should be taking place at least every six months if at all possible. Remember, the main thing is to keep your desired audience in mind. Even if no one is discovering your site right now, as long as you continue creating content that is geared towards helping them, it's only a matter of time before you're found by the traffic you want. Your blog is the perfect place for that. Happy auditing!