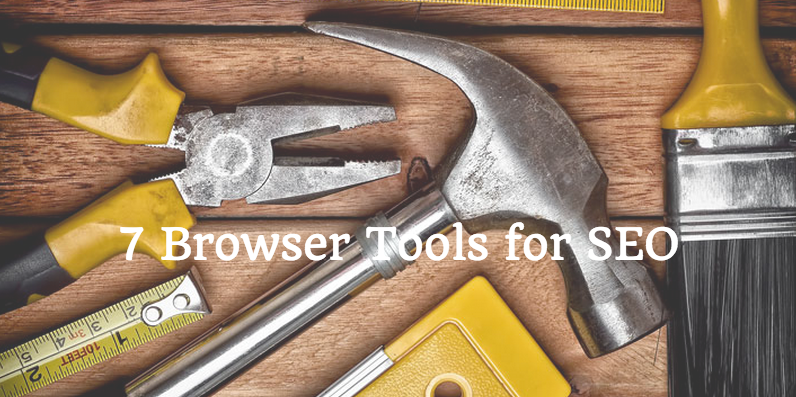 If you're looking for ways to get more out of your website, you should try applying search engine optimization (SEO) techniques. It's a great way to help new visitors discover your site by improving your rank in search engine queries. Imagine being found by people looking for content that you already have on your site. They're going to love it! Consequently, there's a good chance they're going to love you. Today, we're going to discuss 7 Browser Tools for SEO and how they can help you improve your site's rank.
Tool #1:  
Page Analytics Toolbar

by Google

Anyone serious about improving their site's search engine rankings should already be using Google Analytics. The Page Analytics toolbar for Chrome enables you to get a better understanding of how customers interact with your website by showing things like where on each page visitors actually click. This is incredibly useful information when reviewing your Google Analytics data, such as which pages users view the most frequently, which pages they spend the most time on and which pages have the highest bounce rate.
Tool #2:  
SEO for Chrome
Similar to Google's Page Analytics toolbar, SEO for Chrome reports important SEO stats that can be used to help you optimize your site by bookmarking your performance. This Chrome extension offers insights into keyword data, backlinking strategy and even competitive analysis to understand how well your site stacks up against others in your niche. SEO for Chrome also offers page index data from Google, Bing, Yahoo and MajesticSEO.
Tool #3:  
SEOquake
The SEOquake extension, available for Chrome, Firefox, Opera and Safari, is great for pulling data in a hurry. It comes with 3 main components – the SEOToolbar, SEObar and SERPs parameters – which users are able to define themselves. This tool offers information about page rank, keyword density and whether inbound links are marked as "no follow."
Tool #4:  
Ghostery
Ghostery touts that it can show users the "invisible web." What this means to you is that it displays HTML tags, cookies, tracking pixels and beacons to help you understand exactly what companies are tracking. This tools is very effective for competitive analysis, as it provides some insight as to how closely your direct competitors are monitoring their sites. Ghostery is available for Chrome, Firefox, Opera, Safari and Internet Explorer, and there's a mobile app that works with both iOS and Android. The extension can also be installed on Firefox for Android.
Tool #5:  
Check My Links
The Check My Links extension is a very interesting tool for SEOs. It can be used to scan through your own site and make sure that the links you're using are all active, functional links but it can also be used to help find backlinking opportunities. As you probably know, getting more links to your site from other sites can be a significant contributor to improving your site's SEO. This tool allows you to scan other sites –which could be providing links to your site – to see if there may be broken or inactive links. When you find these links, you can simply contact the owner of the site you're scanning and ask them to consider replacing the broken link with a link that points to relevant content on your site. If they agree, you've just earned yourself a backlink, which has a great chance of helping improve your site's rankings!
Tool #6:  
Meta SEO Inspector
If you use Google's Webmaster Tools, then you will wonder how you ever lived without the Meta SEO Inspector. This extension, available for Chrome, draws data from several reliable sources, including Alexa, Quantcast, SEMRush and MajesticSEO. The greatest value, however, may be in the on-page elements it uncovers. That's because Meta SEO Inspector uncovers critical on-site SEO elements and puts them all at your fingertips. Tracking down important tags, link information and other attributes? Meta SEO Inspector will save you hours. That's what makes this such a great tool for competitive analysis!
Tool #7:  
Firebug
The final SEO browser tool we're discussing today is Firebug. Firebug is a pretty versatile tool and is especially useful if on-page optimization is your primary concern. When you open the extension, it generates separate tabs for HTML, CSS and DOM. The HTML tab will hold tremendous insights for on-page SEO, as you can use this tab to monitor your key tags, links and other attributes. Reviewing the same information on your competitors' sites will provide you with great insights into ways you can improve your own site's organic search rankings.
Improving Your Site's Rankings with These Tools
While each of these 7 browser tools has its merits, you will find some overlap between them. Part of the process of getting started with SEO is finding out what works best for you. There are many strategies and tactics out there, but at the end of the day it really boils down to finding what works for you. If these tools provide actionable data that you can use to improve your site's rankings, then you should use them – but there is no cut and dry, one-size-fits-all answer to getting your site to the top of the search engine results page. Remember, in the end it's all about finding ways to achieve the goals you set for your website.