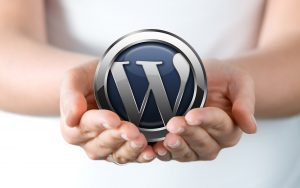 WordPress started in 2003. Initially, it was just another blog site, like Blogger or Blogspot. However, with advances in technology and a few great plugins, WordPress has become a great site to set up your own website for either personal or business use. There are many great benefits to using WordPress for your website. Here are 7 of the best reasons you should use WordPress:
1.  Easy To Use
WordPress will help you step by step as you start setting up your website. You can add new blog posts and pages with ease, even if you know very little about formatting. Also, if you have a problem, WordPress has a wonderful help center and forum to walk you through any issues.
2.  Customizable
WordPress has hundreds of themes and colors to help you make your website unique and creative. You can also choose to upload your own theme. If you are great with formatting, or know a web designer, you can opt to have it completely customize to your liking. The possibilities are endless when designing your webpage.
3.  Easy To Manage
First of all, you can log in from any computer, anywhere, and have easy access to your website. Also, all the commands are simple and straightforward so you really don't need much knowledge in html or computer coding. Also, it gives you this easy to use system where you can set up your post and set up when you want that post to go live. This way you don't always have to make time for adding posts. Overall, the simplicity of managing this site is amazing.
4.  Helpful Plug-ins
WordPress Plugins are added features and functions that you can install to further broaden what you want to do on WordPress. These features will allow you to do things such as slideshows, gives added security, helps with SEO and wide array of other options. Technically speaking, Plugins are like the equivalent of Apps in your Playstore.
They will help bring your website to the standards and designs you want for it.
5.  Saves Money
There are two ways WordPress can save you money. First the website WordPress.com is a free site that offers many functions you may want. Now the website WordPress.org  does cost money, however if you wish to have a lot more functions and features this is the way to go. Overall, using WordPress.org may cost money but it will save you money because you won't have to hire web designers or someone to add code or someone knowledgeable in SEO. So, overall it is a win-win situation. Sometimes spending a little money will save you more in the long run.
6.  Allows For Multiple Users
You can create different user accounts for your business with different security levels in order to ease your level of work. This could be as simple as hiring a freelance writer to write your blog post. You can give them access to your WordPress account without allowing them full access. This means they can write and post blogs for you but they can change your layout or theme. This type of control is phenomenal, especially for bigger companies who want to allow several employees access to the website.
7.  Built-in Blog
Not only do you have a full website once you have created your WordPress page, you also have a built-in blog that is quite efficient to use.  It will also help draw traffic to your webpage. You can schedule blog posts and even see previous posts. This is a wonderful feature that really does add to your website.
In conclusion, there are many different ways and sites that will help you launch a website. However, WordPress is search engine friendly, easy to use, and has so many wonderful features that many other sites don't have. This is why so many people have chosen WordPress for their websites.