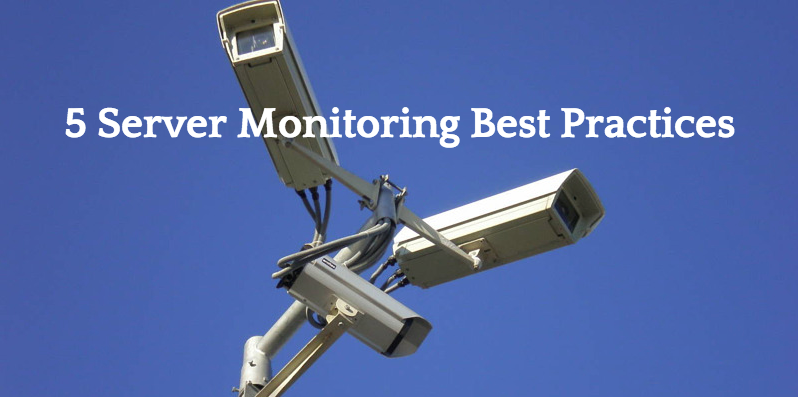 Back in March, we first brought up the topic of server monitoring on our blog. In our initial post we explained how server monitoring works, identified some common monitoring metrics and explained who can benefit from it. To build off of that initial introduction to server monitoring, today we will discuss 5 server monitoring best practices to help you protect your website, email, data, application, or whatever else you may be housing on your server.
1. Testing, Testing, Testing
You need to know when your network is experiencing issues. When setting up your server monitoring program, the most important thing you can do is to thoroughly test your server monitor. This should occur at every step of the configuration process.
2. Eliminate the Single Point of Failure
Focusing on a single point of failure is setting yourself up to be let down somewhere else along the way. Your network has many active components that are all necessary to keep you online. If you're only monitoring one thing, then you are probably unaware of what's going on anywhere else.
3. Reach the Right People the Right Way
Your network can go down at any moment. If you have several people in charge of separate components, you need to be sure that the right person is receiving the right notification as soon as a problem is detected. It's also important to remember that each of these different people may be reached more effectively by different methods. Think of it like this: Jeff may be a lot more likely than John to check his email, but Jeff may also be notorious about missing calls.
4. Document Your Resolution Process
Your alerts are configured to the specifications you choose. Be sure to document some resolutions for the issues you anticipate experiencing most frequently. Be sure to distribute this documentation around appropriately to all those who receive the alerts, that way someone is properly equipped to correct the issue as quickly as possible.
5. Rely on
HostandStore
Remember, with HostandStore, your online success is our top priority…and how can we help you succeed if you're not online?! Our team is available around the clock to make sure your server is in good hands. You can reach us via LiveChat on our site (when available) or through our 24/7 ticketing system. No matter when you need us, we're here to help!